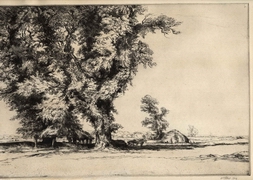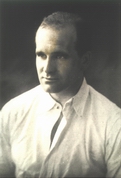 William Palmer Robins
Born in Southwark, England on July 21st.1882 , William P. Robins grew up in a busy home with seven siblings. Encouraged by his father, William Benjamin Robins, an art teacher and a naturalist, father and son would stroll the countryside sketching together. William's mother Annie was a schoolteacher. William Palmer Robins would create more than 270 etchings, woodcuts, lithographs, drawings, mezzotints, dry~points, aquatints, watercolours and oil paintings in the course of his 77 years. His training for two years in an architectural firm owned by Professor Banister Fletcher provided invaluable experience in the making of architectural drawings and traced plans. At the same time, William was attending the lectures of Professor Fletcher. In 1899 he won the Carpenter Company's Silver Medal for The History of Architecture. Choosing not to pursue architecture as a profession, he moved on to St. Martins School of Art and eventually became an instructor. He was there for 20 years. In 1909 under the guidance of W. Lee Hankey at New Cross, W. P. Robins created his first copper plates: The Pool, The Hayfield and Pevensey Beach as etchings, with aquatint tones added later. The next three were Peace and Stillness, Moonrise, and Evening, done as pure aquatints. He learned his craft as an etcher under Sir Frank Short at the Royal College of Art. In 1913 he became an associate and in 1917 a full member of the Royal Society of Painter Etchers. In 1911 he won the Silver medal of the National Competition for the History of Architecture.
He was a most exacting artist: if a plate did not meet his critical eye, he would destroy it. He himself estimated that twice as many plates as he published were destroyed. He was considered a highly skilled member of the picturesque landscape tradition which is reminiscent of the work of Rembrandt.
In 1913 - 1914 Robins lived at Knebworth in Hertfordshire, near a forest which was a source of great inspiration. Robins was an author, an essayist and an illustrator of fine books. He studied at Roan's School in Greenwich as a child, St. Martin's School of Art, and Goldsmith's College. He became Head of the Etching Department in the London County Council Central School of Arts and Crafts. During World War I, he served in the Artist's Rifles. He was a member of the Royal Society of Painters, Etchers and Engravers and was also a member of the Chicago Society of Etchers. He exhibited in Venice, Florence, Paris, Zurich and Los Angeles. He studied with Sir Frank Short and was a contemporary of George Soper and Frank Brangwyn. Reviews of his work appeared in The Sphere (by Neville Wallis), The Bookman's Journal and Print Collector Vol. V No.4, January 1922 from which material for this article has been drawn. His obituary appeared on July 15, 1959 in The Times of London newspaper.
His subjects were mainly landscapes, farm scenes with emphasis on trees, harbors with boats and detailed studies of buildings: churches, bridges and so on, as well as a limited number of portraits.
He was married, first to Mabel Louise Mathews, a gifted artist and sculptress in her own right who tragically died giving birth to their second child, a daughter, Bridget (1917 - 1983). Their first child, Patrick ,was stillborn. W.P. Robins subsequently married Miriam Gladys Mathews, the younger sister of Mabel, and went on to have four more children: Miriam (Cherry Lankester), Carol Elizabeth (Campbell)1926-2001, Sally Lawford, an artist in her own right) and David, who died in his infancy. His last child was Jenepher, born in 1937, the daughter of the accomplished miniaturist portrait painter Marjorie F orbes.
William Palmer Robins was the grandfather of 20 grandchildren and many great grandchildren.
If you have works by W. P. Robins or sculptures, drawings etc. by Mabel Louise Mathews (M.L.M. or M. L. Robins) for SALE, contact wp_robins@hotmail.com
Read The Art of William Palmer Robins and Robins and Harold Wright from the University of Melbourne Library.
---
If you have works by W.P.ROBINS OR MABEL LOUISE MATHEWS (OR M.L. ROBINS) for SALE, please e-mail wp_robins@hotmail.com